Rally by NCC and NSS unit Baba Farid College, Bathinda
The occasion of Diwali, NSS unit NCC unit of Baba Farid College organized a Rally.It was organized to aware the students about "Anti-Cracker" diwali to motivate all the student to save the environment from the pollution. Rally Flag off by Dr. Pardeep Kaura( Deputy Director Academics(BFGI),, Shri B.D Sharma, Deputy Director Activities BFGI, Mr. Harpal Singh, Deputy Director Facility management, Mr. Manish Bansal, vice principal(BFC),W.S. Brar Principal(BFC), Dr Sarabjeet Singh Ball, Dean of Agriculture Deptt. Rally Started from main gate of BFGI and aware all the students of BFGI. the NCC volunteers of various department made the hoarding with slogan on theme ' Anti- Cracker' on Diwali Occasion. Slogans made by students were:
1. Say bye-bye to the Fireworks
2. Celebrate the Green Diwali
3. Grow More Trees
4. Feed to the beggar Children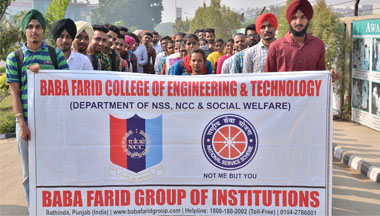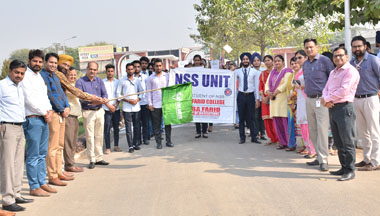 At the end, Shri B.D Sharma, Deputy Director Activities BFGI told the importance of celebrating anti-cracker diwali. Volunteers regarding ill effects of bursting of crackers. NCC Co-ordinator Madam Rajwant Kaur, urged the students to energize efforts to put the pollution spread during bursting of crackers at the top of any development agenda. The students were carrying colourful placards and raised slogans like 'SAY NO TO CRACKERS,YES TO LIFE' to cultivate a sense of duty towards the society with which we can better our lives and those of others and take our country on the path of progress. NSS Progamme Officer Sukhjinder Kaur encouraged the students to raise awareness around them and spend their parents' hard earned money judiciously. Chairman BFGI, Dr. Gurmeet Singh Dhaliwal encouraged the students and said that such kind of initiatives to aware the society for their welfare should be taken in future also.
All the students participated enthusiastically and gained values of co-operation, social service, brotherhood, collaboration, mutual assistance.
Report Regarding old Age Home Visit

on 30th Sep. 2016,As a part of social activity, a total of 31 NCC cadets along with Madam Rajwant Kaur, (NCC Co-ordinator ,BFC) visited Old-age home in Badal. The cadets interacted with inmates of the Old-age home and carried out area cleanliness. On the occasion, a small cultural program was also organized by the cadets for the inmates of Old-age home. The gesture shown by the cadets was appreciated by on and all. In the end fruits, biscuits and gifts were distributed to the inmates of the Old-age home and also a memento was given to the manager of Old-age home as a token of respect. The social activity was undertaken to create awareness among the NCC Cadets of their obligation towards the elders and the society so as to make them better citizen of country. It was really a joyous experience for all the students to visit the Old-age home and interacting with its inmates. The most inspiring thing there was that in spite of facing so many hardships these aged people have brave hearts and are still trying to find endless ways to be happy to live.
International Literacy Day

On 8-9-2016, NCC Unit of Baba Farid College organized a Speech Competition on the occasion of INTERNATIONAL LITERACY DAY under the supervision of NCC Co-ordinator-Madam Rajwant Kaur and many students participated in this competition. Director Admin-Madam Paramjeet Kaur Dhaliwal, Deputy Director Academics-Dr.Pardeep Kaura, Deputy Director Activities-Mr. B D Sharma, Principal BFCET-Mr. Manish Goyal, Vice principal BFC-Mr. Manish Bansal and DSW - Ms. Ranbir Kaur Brar were also present there. Mr. Jagmeet Singh (Deputy Dean Cultural Activities) and Ms. Chandni (Hod English Deptt.) were the judges of the competition. Student got First position Manisha(B.SC BIOTECH), 2ND AMANJEET SINGH(M.COM-I) and 3RD LOVEPREET SINGH(BCA III). Mr. B.D Sharma and Vice Principal BFC, Mr. Manish Bansal motivated the students with their speech. At the end Madam Paramjeet Kaur Dhaliwal, Director Admin gave prizes to all the NCC Camp position holders and to the students who participated in the Speech Competition.

Rally and a Expert Lecture on "Water Day"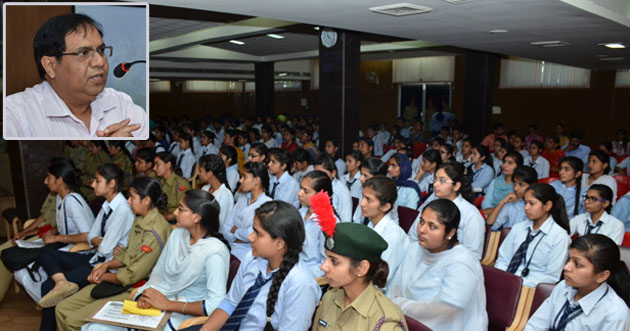 On 22/3/2016 on the occasion of Water Day by NCC & NSS units of Baba Farid College organized a guest lecture by Dr. Rajan Aggarwal (HOD of Soil & Water Engineering, PAU).Topic of the lecture was "Save Water".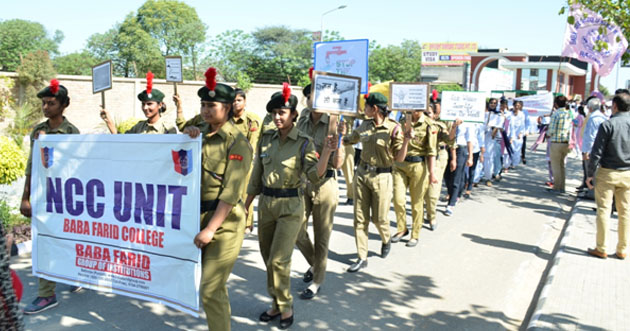 A Rally was organized to aware the students about water saving. Rally Flag off by Shri B.D Sharma, Deputy Director Activities BFGI. Rally Started from main gate of BFGI and aware all the students of BFGI. This rally was organized by Coordinator NCC BFC and Depty Dean BFC.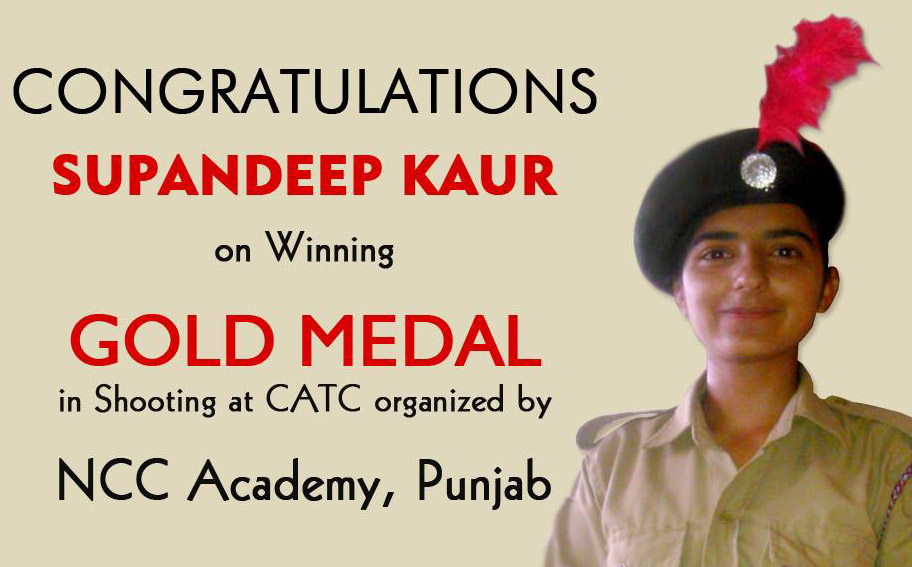 Rally regarding Pollution Free Diwali

Students of BFGI organized a Rally to aware about pollution free diwali.This rally was held under the coordination of Coordinators of NSS and NCC.This Rally was held within campus by Students with banners regarding Pollution free diwali.On this occasion ,All students and staff members promise to celebrate pollution free diwali and decide to aware the people living near them.On this occasion Dr.Gurmeet Singh Dhaliwal Chairman BFGI , Dr.Pardeep Kaura,Deputy Director Academics ,and DSWs of BFC and BFCMT were present there.